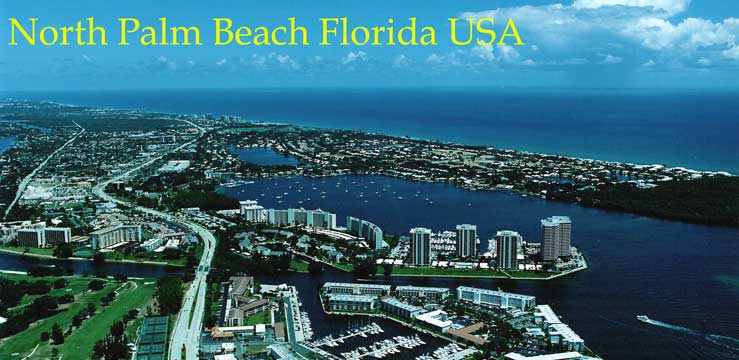 The Village of North Palm Beach is located south of Juno Beach bordering the north end of Lake Worth and the Intracoastal Waterway system. Many homes front on canals and the intracoastal system and have docks for boats. The North Palm Beach Country Club is public and boasts a golf course, driving range, olympic sized pool and tennis courts.
North Palm Beach is known as a boating community with a large network of canals and waterways. The Village is comprised of approximately 13,000 year round residents with an additional 5,000 seasonal residents arriving during the winter months. Approximately 40% of the houses and condos are located on waterfront, canal front, or water access properties. These waterfront residences help maintain the property values throughout the Village of North Palm Beach.
North Palm Beach is known for its quality of service. The Village of North Palm Beach continues to maintain rear door pickup as part of its sanitation collection service; a strong code enforcement program keeps the Village in a neat and clean appearance; the Public Safety Department provides excellent police protection, a top rated Emergency Medical Service, and a very strong Fire Department.
The Village of North Palm Beach is known for its family orientation and its strong family values found throughout the community. The recreation programs and facilities are developed and maintained by the Village of North Palm Beach. The community center ball fields were completed in January 1998. In addition, a concession stand was constructed to support an older ball field at the Osborne Park and a community activities building was completed in February, 1998, that will house smaller community activities such as bridge clubs, the North Palm Beach Band, chess club, the Village Players, and other organizations and activities.
North Palm Beach boasts its own golf course and driving range with Club House Dining and a full bar. The Olympic size pool has several diving boards. There is boat storage (waiting list) and a boat ramp. These services are all available for North Palm Beach residents.You will find some of the best restaurants for fine dining and quick meals. There are several marinas that can handle boats up to 150 feet. This area has easy access by PGA Blvd to I95 and the Turnpike.
Jim and Ruth Jacobs specialize in the North Palm Beach communities with all its beautiful established neighborhoods, waterfront properties, convenient condos, and welcome the chance to assist you with your North Palm Beach Real Estate needs. Each have over 30years experience as real estate professionals and will work to have a seamless transition for your transaction. Call us at 561.308.1189 or complete our contact form if you prefer email and let's talk real estate!